When you want to access your whole team's writing insights, you can use our Linguix Business Statistics dashboard. However, our Linguix Business+ corporate customers can also access writing insights on a team member's level.
In order to view your team member's writing insights, you need:
Sign in at linguix.com
Navigate you your team's dashboard at https://linguix.com/pro/.
Click Members on the left side menu.
Click on the Statistics icon to browse your team member's insights on documents count, words count, alerts shown. These charts can be viewed either on the weekly or monthly basis.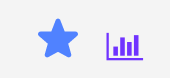 Note: this dashboard provides aggregated writing data for both Linguix for Browser and the Web App.
To learn more on Linguix Business+ and schedule a demo, ping us at [email protected]